What to expect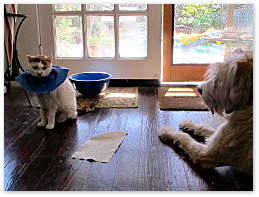 Upon arrival, I'll give an injection of a sedative that has great pain control and anti-anxiety properties as well before the final injection to help your pet pass on. Within 5-15 minutes of the sedation, your pet should be sleeping peacefully, but even though they are unconscious the eyes aren't likely to close. Some people choose to say their goodbyes at that point and head into a different room; most stay while I give the final injection. The vast majority of pets pass very, very peacefully- they just seem to drift away. Occasionally we will see some reflexes happen as the final injection is being given (rapid breathing, big last breaths, or even muscle twitching and trembling) These reflexes are not a sign that anything is going wrong or that your pet is feeling any pain, but can be disturbing to see if they occur.
If I'm not coordinating the aftercare, I'll excuse myself after confirming they have passed and go. If I am coordinating aftercare arrangements, once I have confirmed that they have passed, I will take my things to the car and give you some time alone before taking their remains with me. If your pet has bitten anyone within 10 days of our appointment I'll need to know ahead of time.
For most of my service area during my regular business hours the cost of the housecall, sedation and euthanasia is $350. Sometimes I'm able to accommodate further travel, weekend or evening visits for an additional fee. Communal cremation (without the ashes returned to you) is $125-200 depending on your pet's size. I can have a clay paw print made and mailed to you for $50. Individual cremation with the ashes mailed to you along with a clay paw print would be $325-450 depending on their size.